BETTA Squad Selection: Trial 3 vs Central District
Posted by Jonathon Parker on 18 March 2021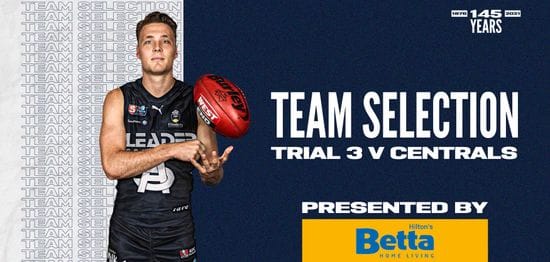 South Adelaide League and Reserves have their final hit out of the pre-season.
In one final dress rehearsal before the start of the 2021 SANFL StateWide Super League season, the Panthers take on the Bulldogs on Saturday afternoon.
In a solid match up against West Adelaide last week, the Panthers will make a few changes to the squads.
2020 Knuckey Cup winner Matthew Broadbent and promising young talent Jason Horne will both be managed.
2020 Reserves Best and Fairest Jake McCreery will sit this week out, making way for Cooper Machin and Marcus Lippett.
A triple treat of Panthers football kicks off at 11:30am with the Reserves, followed by the League trial at 2:10pm then finishing off the day with the Women's Round 4 clash against Sturt.
If you haven't already, sign up as a 2021 South Adelaide Member at the game on Saturday (in the Merchandise Hut) and receive your members pack (2021 membership card will not be available on Saturday due to card production).
Members who have already purchased their membership will be able to collect their pack from the Merchandise Hut. Memberships purchased after March 7 will not be ready for collection.
If you are planning on attending the trial, please maintain social distancing and follow COVID Safe directions.
What: Panthers vs Bulldogs
Where: Flinders University Stadium
When: Saturday, March 20, Reserves 11:30 AM | League 2:10 PM
Tickets: Free Entry
| League Squad | Reserves Squad |
| --- | --- |
| 2. Gibbs | 14. Sawford |
| 3. Loneragan | 17. Tucker |
| 4. Haines | 18. Dumesny |
| 6. Freitag | 20. Mckinnon |
| 7. Overall | 27. Douglass |
| 8. Rose | 28. Elsworthy |
| 9. Milsom | 35. Gaden |
| 10. Biemans | 38. Juckers |
| 11. Haren | 41. Whitbread |
| 12. Wilkinson | 46. Coleman |
| 14. Bogle | 47. Lippett |
| 16. Skinner | 48. Kraemer |
| 19. Cross | 49. Lovering |
| 21. Heaslip | 50. Clifton |
| 22. Summerton | 51. Spacie |
| 23. Tarca | 52. Machin |
| 24. H.Sampson | 53. Williams |
| 25. Turner | 55. Flett |
| 29. Kappler | 58. Nye |
| 30. Schwarz | 60. Megins |
| 31. Fitt | 61. Hindes |
| 34. Brown | 62. Nobes |
| 39. Cailotto | Barry |
| | Lockyer |
| | |