BETTA Team Selection: Under-16 Round 3 @ West Adelaide
Posted by Jonathon Parker on 18 March 2021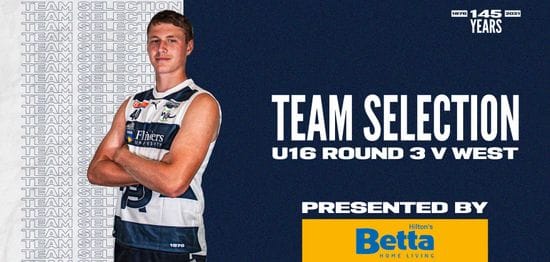 The South Adelaide Under-16s aim to make it three from three on Sunday Morning.
Coming a strongly contested match up last week again Centrals, the South Adelaide Under-16s hit the road to take on West Adelaide.
All the action kicks off bright and early on Sunday morning at Richmond Oval.
The 2021 SANFL Digital Pass will once again stream the Under-16's matches, which can be purchased here.
South Adelaide Members receive a discount on the Digital Pass which can be purchased here.
What: Panthers @ Bloods
Where: Hisense Stadium
When: Sunday, March 21, 9:00 AM
Tickets: Free Entry
Watch: Live via SANFL Digital Pass
| | | | |
| --- | --- | --- | --- |
| 4 | Benny | Barrett | Happy Valley FC |
| 8 | Blake | Rodrigues | Yankalilla FC |
| 9 | Kohen | Major | Yankalilla FC |
| 10 | Sid | Draper | Willunga FC |
| 12 | Phoenix | Hargrave | Reynella FC |
| 13 | Sebastian | Hoeck | Willunga FC |
| 16 | Jack | Delean | Reynella FC |
| 17 | Ethan | Taylor | Christies Beach FC |
| 18 | Tyson | Woodcock | Willunga FC |
| 19 | Tom | Pilmore | Aldinga FC |
| 21 | Marley | Lane | Christies Beach FC |
| 22 | Ryan | Pearsons | Encounter Bay FC |
| 24 | Cooper | Bobridge | Brighton FC |
| 28 | Noah | Howes | Port Noarlunga FC |
| 29 | Jack | Meaney | Goolwa Pt. Elliot FC |
| 30 | James | Baxter | Encounter Bay FC |
| 31 | Jace | Daris | Christies Beach FC |
| 32 | Riley | Mechan | Reynella FC |
| 33 | Myles | Amos | Willunga FC |
| 35 | Isaac | Churchill | Aldinga FC |
| 36 | Nicholas | Schroder | Willunga FC |
| 37 | Zak | Keir | Dudley United FC |
| 38 | Sebastian | Oliver | Happy Valley FC |
| 39 | Jake | Agnew | Reynella FC |
| 40 | Tom | Schirmer | Reynella FC |