BETTA Team Selection: Under-18 Round 1 vs Norwood
Posted by Jonathon Parker on 1 April 2021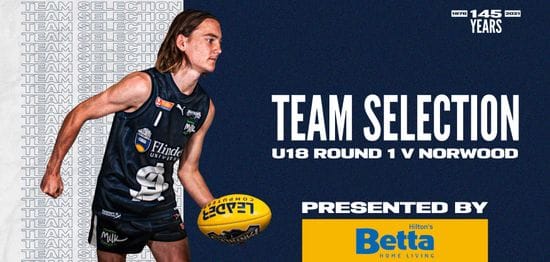 The South Adelaide Under-18s kick off the season against the Redlegs.
The South Adelaide juniors begin the 2021 Under-18 season with a Good Friday clash against the Redlegs tomorrow afternoon.
The Under-18s are the final game of a huge triple header of Panthers footy at Flinders University Stadium, kicking off at 3:45pm.
The 2021 SANFL Digital Pass will once again stream all Under-18's matches, which can be purchased here.
South Adelaide Members receive a discount on the Digital Pass which can be purchased here.
What: Panthers vs Redlegs
Where: Flinders Universtiy Stadium
When: Friday, April 2, 3:45 PM
Tickets: Free Entry (3/4 time of the SANFL League match between the Panthers and Crows)
Watch: Live via SANFL Digital Pass
| | | | |
| --- | --- | --- | --- |
| 1 | Dylan | Brown | Happy Valley FC |
| 3 | Luke | Mitton | McLaren FC |
| 5 | Angus | Bradley | Willunga FC |
| 6 | Cameron | Kirkland | Reynella FC |
| 8 | Cooper | Rogers | McLaren FC |
| 10 | Isaac | Birt | Strathalbyn FC |
| 12 | Austin | Hogg | Christies Beach FC |
| 13 | Lachlan | Hayes | Cove FC |
| 14 | Riley | Jones | Happy Valley FC |
| 18 | Hugo | Hoeck | Willunga FC |
| 19 | Charlie | Duncan | Happy Valley FC |
| 21 | Mathew | Roberts | Langhorne Creek FC |
| 22 | Kyan | Smith | McLaren FC |
| 24 | Hugh | Daniell | Willunga FC |
| 25 | Rhys | Galliford | Kangarilla FC |
| 27 | Declan | Le Raye | Happy Valley FC |
| 29 | Dylan | Miller | Morphett Vale FC |
| 30 | Thomas | Worthley | Uraidla FC |
| 33 | Arlo | Draper | Willunga FC |
| 35 | Koby | Cockshell | Kingscote FC |
| 37 | Kyle | Marshall | McLaren FC |
| 39 | Will | Verrall | Christies Beach FC |
| 40 | Heath | Treloar | Victor Harbor FC |
| | | | |