Betta Teams: 2019 Internal Trial Teams
Posted by Matt Sampson on 28 February 2019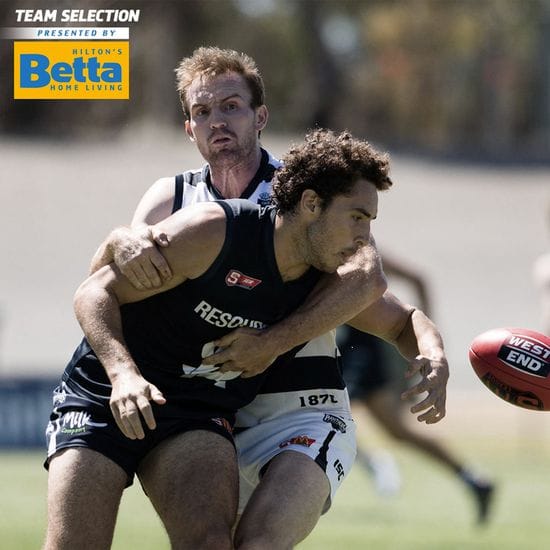 South Adelaide's senior men will have their first competitive hit out tomorrow evening with an internal trial game.
The playing group will be split into two teams - navy and hoops - with action getting underway from 6:20pm at Flinders University Stadium.
Some changes to teams may be made during the evening.
Navy
| | |
| --- | --- |
| No. | Name |
| 1 | Damon Freitag |
| 2 | Emmanuel Irra |
| 3 | Hayden McLean |
| 10 | Abe Davis |
| 13 | Mark Noble |
| 15 | Luke Bogle |
| 16 | Jackson Elmes |
| 19 | Joel Cross |
| 26 | Cameron McGree |
| 29 | Jaidan Kappler |
| 31 | Liam Fitt |
| 32 | Jayden Hall |
| 33 | Jonty Manuel |
| 34 | Tyson Brown |
| 35 | Tom Neville |
| 38 | Job Colwell |
| 39 | Alex Cailotto |
| 40 | Aiden Baker |
| 41 | Sam Whitbread |
| 43 | Robert Badger |
| 44 | Nathan Beenham |
| 45 | Harrison Mills |
| 47 | Reece Milsom |
| 58 | Sam Renney |
Hoops
| | |
| --- | --- |
| No. | Name |
| 4 | Joseph Haines |
| 6 | Bradley Crabb |
| 8 | Matt Rose |
| 9 | Nick Liddle |
| 11 | Ben Haren |
| 14 | Michael Knoll |
| 17 | Connor Fairlie |
| 20 | Jesse McKinnon |
| 21 | Ben Heaslip |
| 22 | Jake Summerton |
| 24 | Hayden Sampson |
| 28 | Aaron Douglass |
| 30 | Nic Schwarz |
| 36 | Tom Whittlesea |
| 37 | Danny Juckers |
| 36 | Darnell Tucker |
| 48 | Daniel Sladojevic |
| 49 | Tate Lovering |
| 51 | Brett Kennedy |
| 54 | Tarik Illingworth |
| 55 | Joel Beeche |
| 56 | James Grimley |
| 57 | Bailey Snelling |
Unavailable: Anthony Biemans, Tate Coleman, Tristan Carcuro, Sam Overall, Eamon Wilkinson, Troy Blackwell, Coby Helyar, Lee Hoey, Jordan Bastian, Malcolm Karpany, Tyler Davies
Game Details
What: SANFL internal trial - Navy vs Hoops
Where: Flinders University Stadium
When: Friday, March 1 - 6:20pm
Entry: Free