Betta Teams: SANFL Trial - South Adelaide vs Eagles
Posted by Matt Sampson on 21 March 2019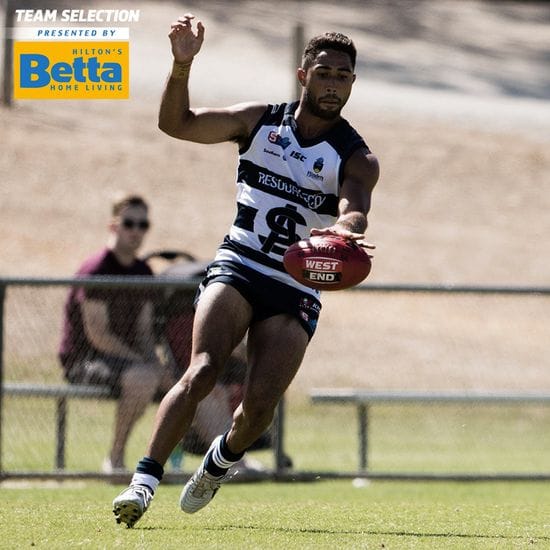 The Panthers will have their final tune up before the season proper this Saturday at Flinders University Stadium.
Action against Woodville-West Torrens gets underway with the Reserves at 10:30am followed by the League side at 1:10pm.
South Adelaide senior women conclude the day's triple header from 3.45pm. Entry is free.
Game Details
What: SANFL Trials - South Adelaide vs Eagles
Where: Flinders University Stadium
When: Saturday, March 23 - League 1:10pm; Reserves 10:30am
Entry: Free
League
| | |
| --- | --- |
| No. | Name |
| 2 | Emmanuel Irra |
| 4 | Joseph Haines |
| 6 | Bradley Crabb |
| 7 | Sam Overall |
| 8 | Matt Rose |
| 9 | Nick Liddle |
| 10 | Abe Davis |
| 11 | Ben Haren |
| 13 | Mark Noble |
| 14 | Michael Knoll |
| 16 | Jackson Elmes |
| 17 | Connor Fairlie |
| 19 | Joel Cross |
| 20 | Jesse McKinnon |
| 21 | Ben Heaslip |
| 22 | Jake Summerton |
| 23 | Malcolm Karpany |
| 24 | Hayden Sampson |
| 30 | Nic Schwarz |
| 33 | Jonty Manuel |
| 34 | Tyson Brown |
| 36 | Tom Whittlesea |
| 39 | Alex Cailotto |
| 44 | Nathan Beenham |
Reserves
| | |
| --- | --- |
| No. | Name |
| 3 | Damon Freitag |
| 26 | Cameron McGree |
| 27 | Kyle Emery |
| 28 | Lee Hoey |
| 29 | Jaidan Kappler |
| 32 | Jayden Hall |
| 37 | Danny Juckers |
| 38 | Job Colwell |
| 40 | Aiden Baker |
| 41 | Sam Whitbread |
| 43 | Robert Badger |
| 45 | Harrison Mills |
| 46 | Darnell Tucker |
| 47 | Reece Milsom |
| 48 | Daniel Sladojevic |
| 49 | Tate Lovering |
| 50 | Tristan Carcuro |
| 52 | Troy Blackwell |
| 54 | Tarik Illingworth |
| 55 | Joel Beeche |
| 56 | James Grimley |
| 57 | Bailey Snelling |
| 59 | Jesse Moffa |
| 61 | Jordan Bastian |