BETTA Teams Selection: Round 7 vs Glenelg
Posted by Jonathon Parker on 20 May 2021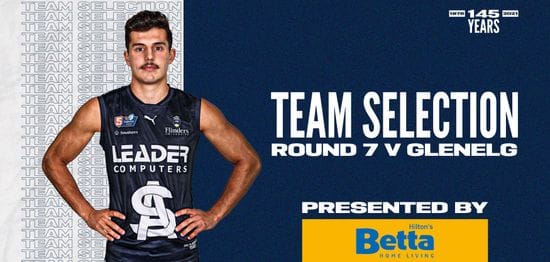 The Panthers return to Flinders University Stadium for a mouth-watering clash against Glenelg.
Fresh off the State Game bye, the Panthers eye off the undefeated Glenelg in what is the SANFL Game of the Week.
Both teams will be also playing for the Carey-Darley Cup which honours the great rivalry and the legacies of club and South Australian icons Peter Carey and Peter Darley.
Both men were premiership players, team captains, best and fairest winners and ruckman for their respective clubs, whose careers also briefly intersected in the early 1970s.
To go with the honour of the Carey-Darley Cup, the played judged best on ground will be awarded the John Schneebichler Medal, which was established last year.
John Schneebichler played for the Panthers for 13 seasons from 1975-1987 where he played 234 games, kicked 351 goals and also captained the club from 1985-1987, before he made the move to Glenelg in 1988.
In 2019, John was inducted into the South Adelaide Hall of Fame thanks to his outstanding contribution to the football club.
The first recipient of the medal was Joel Cross, following an outstanding display against the Bays in Round 9 last year, in which he collected a total of 25 disposals, eight clearances and three goals
Meanwhile, the Panthers name a extended squad of 27 for Sundays contest.
Into the squad comes Luke Bogle, Damon Freitag, Jesse McKinnon, Fraser Turner and Daniel Nobes.
The Panthers and Tigers have played each other 231 times since 1921 with Glenelg winning 122 to the Panthers 106.
Of the last nine encounters, the ledger sits at four wins a piece, with a draw in 2019.
For the Reserves, the Panthers have another tough test against the Glenelg Reserves who are also sitting top of the table with six wins.
This big day of Sunday footy kicks off from 11:30am with the Reserves, followed by the League at 2:10pm.
What: Panthers vs Tigers
Where: Flinders Universtiy Stadium
When: Sunday, May 23. League 2:10pm | Reserves 11:30am
Tickets: Adult $16, Concession $10, Children under 18 FREE.
Watch: Live via SANFL Digital Pass
In: Freitag 6, Bogle 15, Mckinnon 20, Turner 25, Nobes 62
Out: N/A
New: N/A