Finals Week One Teams
1 September 2016
Panthers Finals Double-Header!
This Saturday South Adelaide get their 2016 Finals campaign underway with a Qualifying Final against Sturt at Adelaide Oval, while the Reserves will be playing an Elimination Final against North Adelaide at City Mazda Stadium on Sunday.
League: 3:10pm, Saturday 3 September at Adelaide Oval
Reserves: 11:25am, Sunday 4 September at City Mazda Stadium
Junior Girls: from 9:00am, Sunday 4 September at Hickinbotham Oval
Tickets: Adult $15, Concession $10, Under-18s FREE - more info here
The Panthers enter September with some confidence and form, having won their last five games, including victories against fellow finalists Central District, Adelaide and their Qualifying Final opponents Sturt.
Both South and Sturt have enjoyed a successful 2016 so far, having each enjoyed periods of the season atop the SANFL ladder - for an in-depth breakdown of this weekend's match up check out this week's Match Preview here
South Adelaide made history when they defeated Adelaide at Hickinbotham Oval in Round 22, sweeping their home games 10-0 for the first time since the club moved to Noarlunga. However, the historic victory came at a price, with Ben Haren (shoulder) and Adam Gulden (ankle) leaving the field early in the picture due to injury.
The results were mixed for the versatile pair, with Haren ruled out for the rest of the season, while Gulden has retained his spot in Brad Gotch's 21 for this week's clash with Sturt, named on a halfback flank.
Coming into the side this week is Sam Overall, Emmanuel Irra and Joseph Haines. Overall could be a potential like-for-like replacement for Haren, while Irra and Haines would add valuable leg speed on the quick Adelaide Oval surface.
In the Reserves, Adam Blakely has recalled big-bodied forward Fraser Hawkins to offset the potential loss of Overall to the league team, while hard-working backman Rhys Bartram also returns from injury.
Aftermatch Presentations
Can't Make it to Adelaide Oval?
If you cannot make it to Adelaide Oval on the weekend download the SAFC App for live scores, stats and radio call of the game! The SAFC App is available for free download from both the App Store and Google Play.
Meanwhile, the match will also be broadcast live on Channel 7 and streamed via 7live.com.au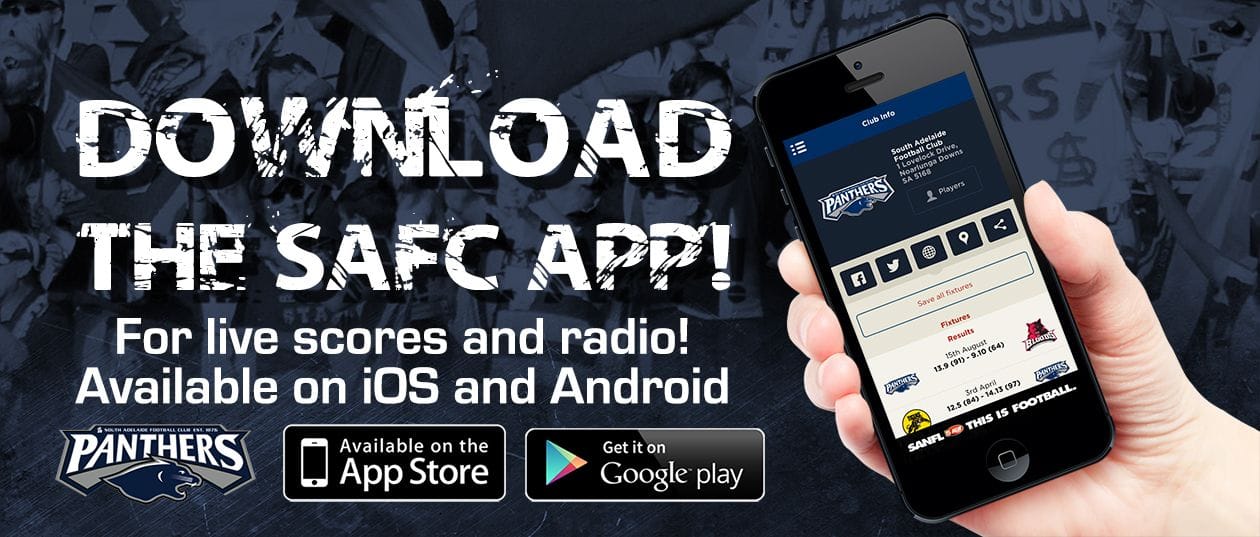 Qualifying Final Teams
Proudly sponsored by


League
3:10pm, Saturday 3 September
vs Sturt at Adelaide Oval
F: Seccull, Eddy, Gotch
HF: Hitchcock, McMahon, Barnes
C: Brown, Newell, Rankine
HB: S. Taylor, Fields, Gulden
FB: Rose, Crabb, Durdin
R: Bass, Cross, Liddle
INT: Ellison, Schwarz, Irra, Overall, Haines
IN: Irra, Overall, Haines
OUT: Haren (shoulder)

Reserves
11:25am, Sunday 4 September
vs North Adelaide @ City Mazda Stadium
F: Ah Chee, Trembath, Hawkins
HF: Anderson, Kokkinakis, Szust
C: Moyle, Heaslip, Blackwell
HB: Jolly, de Visser, Daniel
FB: O'Shaughnessy, Cailotto, Bartram
R: Steffe, Nichols, Wray
INT: Fairlie
IN: Hawkins, Bartram
OUT: Overall (league), Irra (league), Haines (league), Whimpress (omitted)
Under-16 Girls
10:30am, Sunday 4 September
vs Glenelg at Hickinbotham Oval - squad below
H. Smith, A. Thomas, D. Nicolescu, L. Downing, T. Morris, Z. Morris, T. Levy, C. Gladwin, E. Brown, L. Hamon, L. Fuller, M. Worsley, T. Bohnsack, S. Steele, C. Shaw-McMillan, B. Ramsey, B. Bosley, G. Hutchinson, J. Smith, L. Weekley, M. McKinnon, C. Schmidt, N. Bell, S. Hissey, B. Thompson, D. Grantham, N. Gore, S, Grantham, S. Forbes, K. Kramer, J. Wise
Under-14 Girls
9:00am, Sunday 4 September
vs Glenelg at Hickinbotham Oval - squad below
C. Kennedy, K. Benson, L. Clifton, S. Noble, R. Rivalland, S. Wright, A. Dean, C. Reimann, M. Wagenknecht, K. Russell, A. Morris, N. Nolan, O. Downing, A. Moore, E. Thomas, G. Perry, K. Hill, K. Martin, R. Overall, B. Lang, B. Kraft, C. Quigley, S. Paterson, H. Lewis, I. Leon, M. Bentley, M. Taylor, N. Tydeman, H. Barrett, O. Osborne, E. Temme, T. Howden, T. Charlton