Junior Match Report: U18s take down the Redlegs
Posted by Mark Clayton on 23 July 2019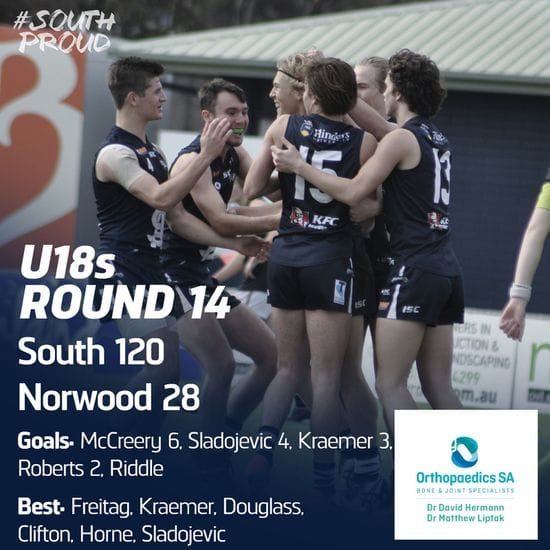 South Adelaide vs Norwood
Round 14 - ACH Group Stadium - 21/07/19
| | | | | | |
| --- | --- | --- | --- | --- | --- |
| South Adelaide | 3.0 | 8.2 | 10.7 | 18.12 | 120 |
| Norwood | 2.3 | 3.3 | 4.3 | 4.4 | 28 |

Goals: McCreery 6, Sladojevic 4, Kraemer 3, Freitag, Roberts 2, Riddle
Best: Freitag, Kraemer, Douglass, Clifton, Horne, Sladojevic
South Adelaide Under-18s make a big statement by getting past the Redlegs on Sunday morning.
Only 4 games to go in the season and we currently sit one game out of the finals, still needing to win every week from here on in.
Playing Norwood at Glenelg, we expected it to be a hard match up on a neutral ground, which is closer to the size of the parade than the size of Flinders University Stadium.
We had three very good ins for us this week with Jason Horne, Arlo Draper and Matthew Roberts back from State under 16 duties. Matthew Roberts made his debut in the Under 18s, Hayden Kernahan and Ben Ryan also came into the side.
We were confident the team was good enough, but we would need to stick to the way we wanted to play for four quarters.
In the typical trend, we again lost the toss and went against the breeze for the first quarter, but within a minute, we had kicked the first goal from our first inside 50 when Roberts handballed out to the running Mitch Riddle who finished.
Norwood kicked the next two before we got two late ones, Horne intercepted a Norwood switch and unselfishly passed to Nick Kraemer who kicked his first.
Not long later Kraemer kicked his second from a forward stoppage to give us a three-point lead at the first change.
The first quarter was very congested with 25 stoppages, now in the second quarter we had the wind we wanted to open the game up and it worked.
We played most of the game in our front half having 12 more inside 50s for the quarter and kicked 5 goals with Beau McCreery kicking two and singles to Daniel Sladojevic and Damon Freitag while Kraemer kicked his third.
This put us 29-points up at half time and in control of the game.
The third quarter is where we have fallen apart at times this year, so we had a big focus on sticking to our plan.
We had one structure breakdown which resulted in a goal, but for the most part we defended very well and were able to score in offence.
We managed to kick two goals for the quarter with McCreery kicking his third and Freitag marking and kicking his second late, but we missed other opportunities which would have put the game out of reach.
Heading into the last quarter we had a focus on finishing the game off, we wanted to win all four quarters, something we have not been able to do much this year.
Sladojevic started to mark the ball and covert kicking 3 for the quarter to give him four for the game.
McCreery continued to look dangerous both in the air and at ground level, who also kicked three for the quarter to give him a total of six. First gamer Matthew Roberts got some reward for his efforts kicking two for the quarter.
This gave us an eight-goal quarter, one of our best for the year, largely generated from how well we defended.
This was as good as I have seen the boys play and it should give them some confidence going into another must win game against the bays this week at home.
Round 15
South Adelaide vs Glenelg
Flinders University Stadium - Sunday July 28 @ 11:30 am
Mark Clayton
U18 Head Coach