Matt Rose named captain for 2021
Posted by Jonathon Parker on 23 March 2021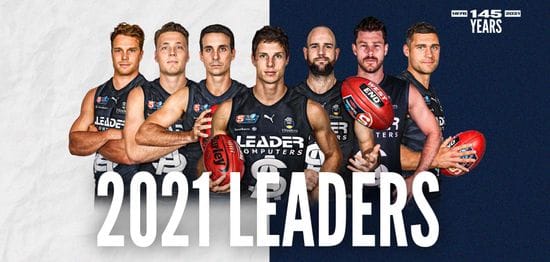 Matt Rose to lead the Panthers in 2021 as sole skipper.
After two seasons sharing captain duties with dual Magarey Medallist Joel Cross, Matt Rose will lead the group in 2021.
As was announced last week Joel Cross decided to step away from official leadership duties to focus on football and give others an opportunity to lead.
Since coming across to the Panthers in 2014, after the realignment of the Magpies and the Power, Rose has been a consistent member of the leadership group.
Daniel Healy and Leading Teams, who develop high performing teams and leaders, have worked with the club and leaders to continue to build the culture within the playing group.
Senior Coach Jarrad Wright is confident Rose will continue the great work that he and Cross have done over the past two seasons.
"Matt has been a great leader on the field for many years now, but with missing all of last season Matt was able to grow his leadership even more off field by building relationships & supporting our players to improve."

"We are looking forward to having Matt back on the park and lead the team for 2021."
When talking about being named sole captain for the first time, Rose said it was a huge honour and loved working with Joel Cross over the last two seasons.
"I have loved working with Crossy the last 2 years as he is a very close friend of mine and someone who I work very well with."

"He has been a wonderful leader of the club for a long period of time and I am sure that won't change now that he has stepped down from the role."

"As a playing and coaching group I feel like we are in a fantastic position going into this year."

"Some of our younger group have developed really well over the past couple of years and we have the experienced boys within the group as well which creates a great balance."

"Personally I am more hungry than ever to be back on the field with this group and can't wait to see what we can achieve this year."
Joining Rose as joint vice captains is 2020 Knuckey Cup winner Matthew Broadbent and 2020 Dr. Jim Harley & Frank Brown Best Club Man Jake Summerton.
Signing with the Panthers in 2020 Broadbent had a stella year in his return to the SANFL from the AFL.
Club stalwart Alex Cailotto also returns to the leadership group along with Victor Harbor native Ben Heaslip, hardnosed Anthony Biemans and recruit Bryce Gibbs.
"The knowledge and experience Gibbsy and Brogsy bring to the group is fantastic and it is great reward for Slippa to be back in the leadership group after a breakout year last year."

"Summo, Biemo and KO will continue to lead the way the way they have in recent years." said Rose.
2021 South Adelaide Leadership Group
Captain
Matt Rose
Joint Vice Captain
Matthew Broadbent
Jake Summerton
Leadership Group
Alex Cailotto
Anthony Biemans
Ben Heaslip
Bryce Gibbs