MRS Property Reserves Match Report Round 6: vs Eagles
Posted by Jayden Bartlett on 10 May 2021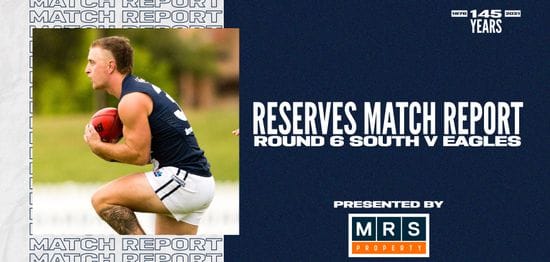 South Adelaide vs Eagles
Round 6 - Maughan Thiem Kia Oval - 8/05/21
| | | | | | |
| --- | --- | --- | --- | --- | --- |
| South Adelaide | 3.1 | 5.3 | 5.5 | 7.5 | 47 |
| Woodville-West Torrens | 2.1 | 5.4 | 8.7 | 12.9 | 81 |
Goals: Nobes 3, Bogle 2, Freitag, McKinnon
Best: Bogle, Turner, Sawford, McCreery, Elsworthy, Douglass
It was a tale of two halves, and it was a costly second half that saw South Adelaide Reserves suffer a 34-point loss against the Eagles at Maughan Thiem Kia Oval on Saturday.
Four weeks is a long time in football; and the Panthers proved that to an extent. Facing off against the Eagles at Maughan Thiem Kia Oval for the second time in a month, the Panthers looked a drastically different side.
After a fast start the Panthers entered the main break trailing by just one point. This was a far cry from their Round Three clash against the Eagles which saw that halftime deficit sit at 50 points.
However, the Panthers weren't able to keep the pressure up as the home side wrestled the game away from South Adelaide before kicking away to win, 7.5 (47) to 12.9 (81).
Fraser Turner made his presence felt after returning to the Reserves, with the Tassie product collecting 34 disposals and 11 marks. Also impressive was Ben Sawford, who finished with 31 disposals and 10 clearances.
Coming into the game off the back of their first win this season, the Panthers looked lively early as Daniel Nobes, Jesse McKinnon and Damon Freitag combined for three goals within the opening thirteen minutes.
Nobes would continue to be dangerous, with the Christies Beach product booting two more majors during the second term which was the Panthers only goals for the second term.
With just a point separating the bottom-placed Panthers from the second placed Eagles, it looked as if it was an upset in the making. But this wasn't to be, as the home side kicked three unanswered goals during the third term.
The Panthers wouldn't respond until the final term when Luke Bogle kicked two goals in just three minutes, but from here it was all the Eagles.
After such a promising start, the Eagles managed to kick seven goals during the second half to the Panthers two.
South Adelaide Reserves will look to bounce back after the bye, when they face off against Glenelg at Flinders University Stadium on Sunday, 23 May, from 11:30am.