Round 17: South vs Centrals - Teams
Posted by South Adelaide Football Club on 21 July 2016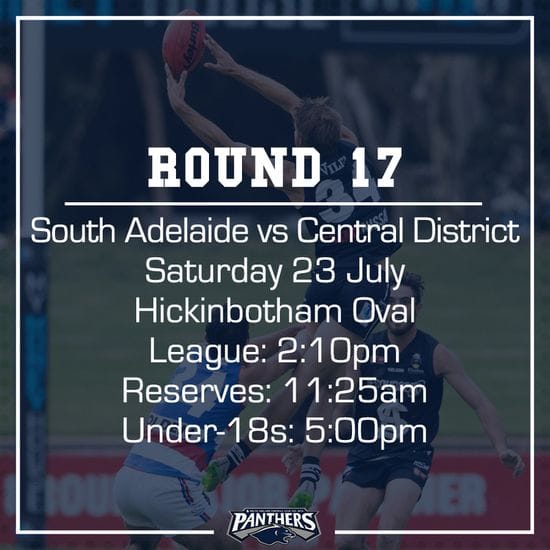 Can South Score Elite Eighth Against Centrals?
This Saturday South Adelaide will be searching for their eighth straight win at Hickinbotham Oval in 2016, as they host Central District from 2:10pm.
League 2:10pm, Reserves 11:25am, Under-18s 5:00pm - Hickinbotham Oval
Adult $14, Concession $8, Under-18s FREE
The Panthers have had the bye to reset after a disappointing loss to Glenelg in Round 15 and will be eager to regain that winning feeling against the visiting Bulldogs.
For an in-depth look at the Panthers/Bulldogs match-up check out this week's match preview here.
Panthers defender Matt Rose will also be celebrating a double milestone as he chalks up his 50th game for the Panthers and 100th total SANFL game - check out a gallery of Matt's time at South here.
Listen to Rose chat to Zac Milbank about his double milestone on SANFL Radio

Brad Gotch's selection panel has again opted for a steady hand arranging the names on the white board this week.
Break out midfielder Nic Schwarz (knee) is the only omission, with gut-running Richard Newell and Encounter Bay product Ben Heaslip a chance to replace the gutsy Schwarz in the middle. Meanwhile, versatile defender Cam de Visser has been rewarded for his strong form in the Reserves with a place on the extended bench.
Gotch has opted for a cautious approach to Cameron Hitchcock's return to the side. Hitchcock, who was a late withdrawal from the Reserves in Round 15 and given an extra fortnight to recover from a hamstring issue, will make his return to senior football through the twos.
Ben Haren and Alex Cailotto will also continue to build form and fitness in the Reserves.
A few injuries have also given Adam Blakely a chance to blood some new talent.
Fraser Hawkins, son of two-time Knuckey Cup winner Robb and cousin of Geelong's Tom Hawkins, is set to play his first senior Panthers game. Measuring in at 196cm and 101kg, the 21-year-old Hawkins has been named in a forward pocket for the Reserves.
Alex Gillett, 179cm, 80kg, from Goodwood Saints has also been selected for his first game at Reserves level.
After a month on the road and fresh off the bye the boys will be raring to go. Make sure you get to Hickinbotham Oval this Saturday and get behind the team! With just four games separating the top 5, we need your support on the run home more than ever!
It is also a great chance to support our juniors as they face Glenelg from 5:00pm to cap off a Panthers triple-header.
If you cannot make it to Hickinbotham Oval on the weekend download the SAFC App for live scores, stats and radio call of the game! The SAFC App is available for free download from both the App Store and Google Play.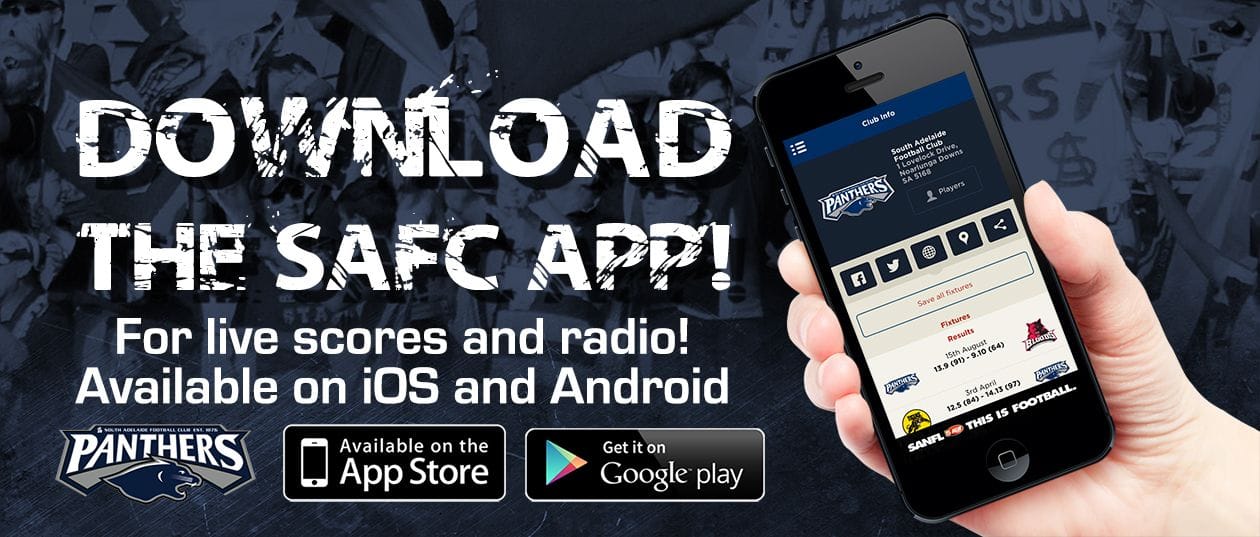 Round 17 Teams
Proudly sponsored by


League - 2:10pm
F: Seccull, Eddy, Gotch
HF: Overall, Ellison, Barnes
C: Brown, Veide, Irra
HB: S. Taylor, Fields, Gulden
FB: Rose, Crabb, Rankine
R: Bass, Cross, Liddle
INT: de Visser, Heaslip, Newell, Durdin, McMahon
IN: Newell, Heaslip, de Visser
OUT: Schwarz (knee)
Reserves - 11:25am
F: Fairlie, Trembath, Hawkins
HF: Need, Haren, Hitchcock
C: Moyle, Nichols, Haines
HB: Blackwell, Kokkinakis, Jolly
FB: Millman, Cailotto, Bartram
R: Steffe, Szust, Wray
INT: Gillett
IN: Hitchcock, Hawkins, Gillett
OUT: Heaslip (league), Newell (league), de Visser (league), Ah Chee, Anderson
New: Fraser Hawkins (Finley), Alex Gillett (Goodwood Saints)
Under-18s - 5:00pm vs Glenelg
A. Albanese, N. Kreuger, J. McKinnon, B. Snelling, D. Whimpress, J. Manuel, R. Irra, H. Bruce, N. Beenham, T. Coleman, S. Draper, J. Daniels, S. Whitbread, E. Wilkinson, L. Fitt, S. Lawrie, J. Fitzgerald, R. Mountford, T. Davies, J. Colwell, N. Steele, J. Wright, J. Tyllis, N. Scanlan, Bo. Sowter, L. Beenham, R. Williams
Author:
South Adelaide Football Club