Round 18: South vs West - Teams
28 July 2016
Panthers Look to Make Bloods Bleed
This Saturday South Adelaide head to City Mazda Stadium to take on West Adelaide in what is a crucial game for the Panthers hopes at securing a double-chance come September.
League 2:10pm, Reserves 11:25am
Under-18s 11:25am vs Sturt @ Hickinbotham Oval
Adult $14, Concession $8, Under-18s FREE
The Panthers are coming off of a strong win against Central District in Round 17, extending their unbeaten run at Hickinbotham Oval to eight games.
With Finals football almost in their grasp, a win against 10th placed West Adelaide will go a long way to securing South's position at Adelaide Oval - for an in-depth breakdown of the Panthers/Bloods match up check out this week's Match Preview here.
Brad Gotch's charges have been boosted by the return of skipper Brad Crabb and electric forward/midfielder Cameron Hitchcock, who have both successfully recovered from their respective hamstring complaints.
Meanwhile, young gun Joe Haines has been rewarded for his outstanding form in the Reserves with a place on an extended bench.
Making way is the excitement machine Emmanuel Irra, who has been sent back to the twos to rediscover his electric form from earlier in the season.
Adam Blakely's Reserves have also been strengthened by the inclusion of Nic Schwarz, who will return from one week on the sidelines with a knee knock.
With only four rounds remaining and places in the top five still up for grabs, make sure you get out to City Mazda Stadium this Saturday to cheer the guys on in the chase of Finals action!
However, if you cannot make it to Richmond on the weekend download the SAFC App for live scores, stats and radio call of the game! The SAFC App is available for free download from both the App Store and Google Play.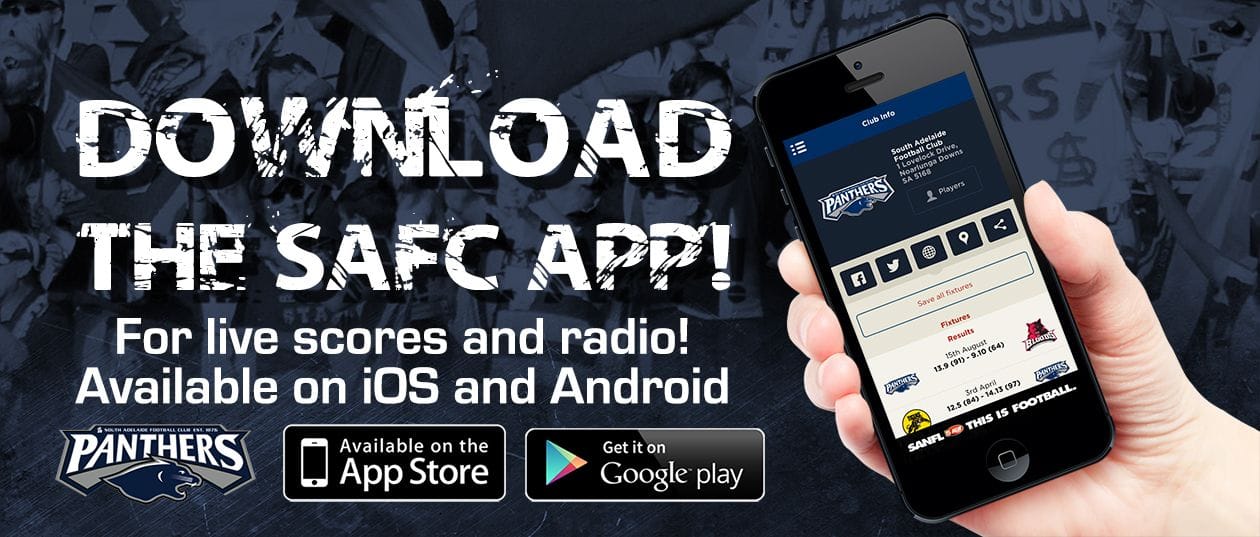 Round 18 Teams
Proudly sponsored by


League - 2:10pm
F: Seccull, Eddy, Gotch
HF: Overall, Ellison, Barnes
C: Brown, Veide, Newell
HB: S. Taylor, Fields, Gulden
FB: Rose, Crabb, Rankine
R: Bass, Cross, Liddle
INT: de Visser, Haines, Hitchcock, Durdin, McMahon
IN: Hitchcock, Haines, Crabb
OUT: Irra (omitted)
Reserves - 11:25am
F: Fairlie, Trembath, Hawkins
HF: Haren, Kokkinakis, Nichols
C: Moyle, Irra, Gillett
HB: O'Shaughnessy, Szust, Jolly
FB: Millman, Cailotto, Bartram
R: Steffe, Heaslip, Schwarz
INT: Wray
IN: Schwarz, Irra, O'Shaughnessy, Wray
OUT: Hitchcock (league), Haines (league), Need (omitted), Blackwell (injured)
Under-18s - 11:25am
vs Sturt @ Hickinbotham Oval
A. Albanese, N. Beenham, L. Beenham, H. Bruce, T. Coleman, J. Colwell, J. Daniels, S. Draper, J. Edwards, L. Fitt, R. Irra, N. Kreuger, S. Lawrie, J. Manuel, J. McKinnon, R. Mountford, H. Sampson, C. Smith, B. Snelling, Ba. Sowter, N. Steele, J. Tyllis, D. Whimpress, S. Whitbread, E. Wilkinson, J. Wright, J. Fitzpatrick