Round Nine: South vs Port - Teams
Posted by South Adelaide Football Club on 19 May 2016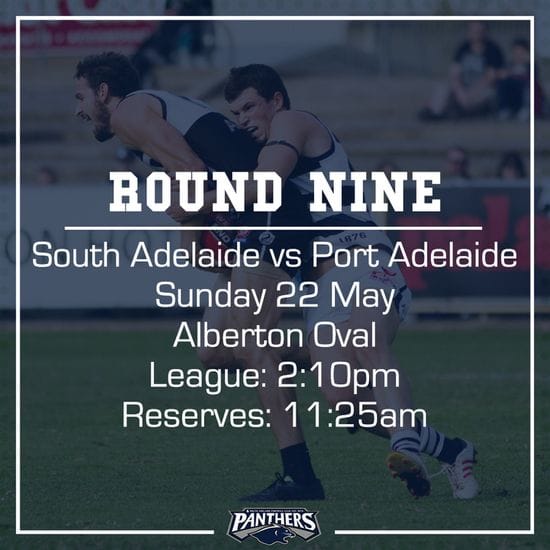 Panthers Prepare for Battle at Alberton
South Adelaide will be looking to bounce back from a disappointing loss to Sturt as they head to Alberton Oval to face Port Adelaide Magpies this Sunday - League 2:10pm, Reserves 11:25am; Adult $14, Concession $8, Under-18s FREE.
The Panthers sit atop the SANFL IGA League Ladder with a 6-1 record, but are coming off a loss that saw them comprehensively beaten by the Double Blues and will be eager to return to the winner's column.
Meanwhile, the Magpies have not been at full strength for some weeks now, with injuries and suspensions to Power players taking their toll on their depth chart. They currently sit eighth on the ladder with just two wins from seven games.
However, the Panthers haven't topped the Magpies since Round 15 2014 and have not tasted victory at Alberton Oval since Round 14 2011. In fact, the Panthers have only won at Alberton seven times since 1967. So Port Adelaide are not an opposition to be taken lightly no matter their position on the ladder.
League regulars Adam Gulden and Tom Fields will make a welcome return to Brad Gotch's side after recovering from a knee complaint and concussion respectively. Also joining the fold is the hard-working Scott Taylor, versatile Pat Kerin, rugged defender Luke Durdin and Reserves leading goalkicker Josh Trembath on an extended interchange - if Trembath is selected it will be his Panthers debut.
However, the Panthers will be without inspirational skipper Brad Crabb, who accepted a one-match ban for striking against Sturt. Nathan Daniel (knee) has also been forced to the sidelines, while Cam de Visser must prove his fitness in the Reserves after suffering a concussion against Sturt and Sam Overall will also line up for the twos at Alberton.
South Adelaide have enjoyed a strong start to the season, but both sides are coming off of big losses and will be desperate for a win. Get to Alberton Oval to get behind the boys as they look to consolidate top spot on the ladder!
But remember if you cannot make it to Alberton on the weekend to download the SAFC App for live scores, stats and radio call of the game against the Magpies! The SAFC App is available for free download from both the App Store and Google Play.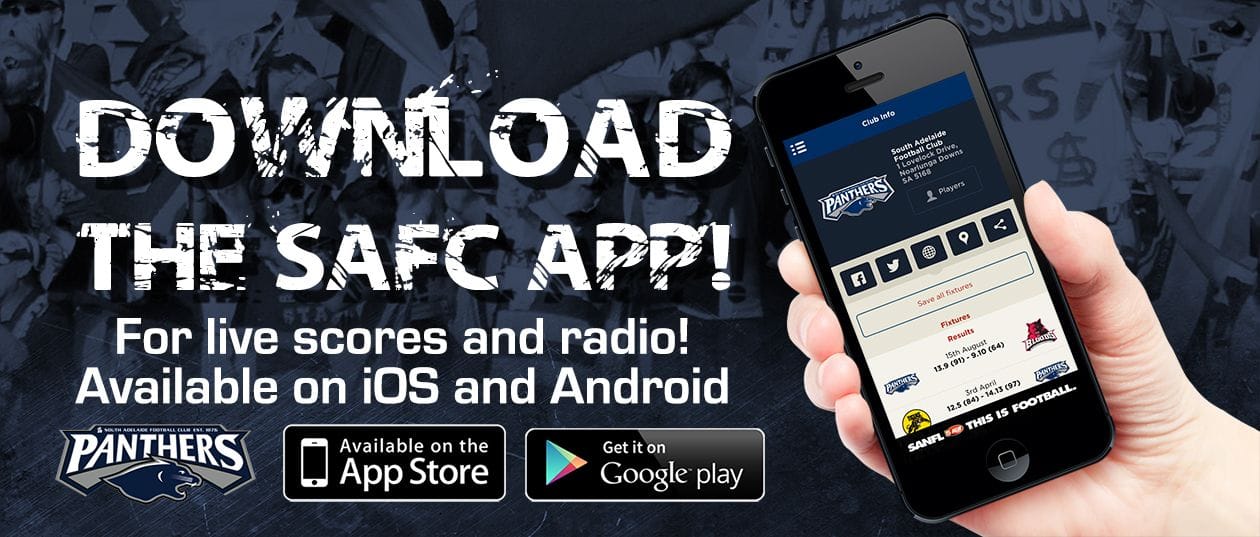 Round Nine Teams
Proudly sponsored by


League - 2:10pm
F: Rankine, Eddy, Liddle
HF: Trembath, Haren, Gotch
C: Gulden, Seccull, Newell
HB: Brown, Veide, Rose
FB: Fields, Cailotto, Redigolo
R: Steffe, Cross, Schwarz
INT: S. Taylor, P. Kerin, Hitchcock, Durdin, Barnes
IN: S. Taylor, P. Kerin, Trembath, Fields, Gulden, Durdin
OUT: Crabb (suspended), Daniel (knee), Overall, de Visser
NEW: Josh Trembath (Glenelg)
Reserves - 11:25am
F: Jolly, Overall, Kokkinakis
HF: Moyle, McMahon, Ah Chee
C: Anderson, Nichols, Haines
HB: O'Shaughnessy, de Visser, Kappler
FB: Giddings, Darrou, Bartram
R: Ellison, Heaslip, Wray
INT: Szust
IN: de Visser, Overall
OUT: S. Taylor, P. Kerin, Trembath, Durdin
Under 18s
South Adelaide vs Sturt - Sunday 22 May - 11:25am - Hickinbotham Oval
S. Draper, S. Lawrie, J. Weller, B. Millman, J. McKinnon, J. Fitzgerald, A. Albanese, N. Steele, J. Wright, R. Mountford, R. Williams, L. Fitt, J. Daniels, R. Mayes, C. Helyar, H. Bruce, J. Tylliss, T. Stone, N. Scanlan, C. Lock, N. Beenham, J. Edwards, B. Snelling, Z. Young, T. Coleman, E. Wilkinson, J. Colwell
Author:
South Adelaide Football Club