Round Seven: South vs Norwood - Teams
Posted by South Adelaide Football Club on 5 May 2016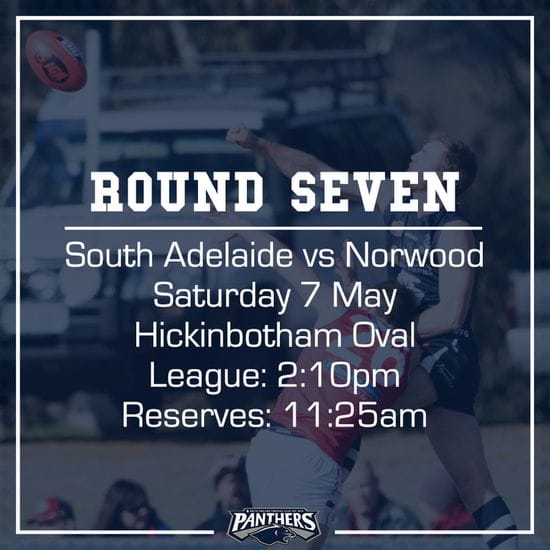 Panthers Search for 6-0 as Crabb Cruises to 150
South Adelaide will be looking to consolidate their position atop the SANFL IGA League ladder and extend their unbeaten start to the season to six games as they face Norwood at Hickinbotham Oval this Saturday - League 2:10pm, Reserves 11:25am.
Last weekend, the Panthers sent shockwaves through the competition after knocking off an Adelaide Crows outfit sporting 18 AFL listed players in a thrilling comeback victory.
This weekend, South face more traditional rivals in the Redlegs. And while Norwood has experienced an indifferent start to the season, their pedigree and offseason recruiting still make them a side that should not be underestimated.
However, with inspirational leader, Brad Crabb set to notch senior game 150 and the chance to solidify their position atop the ladder, there are no shortages of motivation for South Adelaide on Saturday afternoon.
Consistency has been the theme for Brad Gotch's charges this season, with an injury-free run and stability at the selection table seeing only 23 players run out for the League team in 2016.
However, the injury bug has finally bitten at Hickinbotham Oval and Adam Gulden has been forced to the sidelines with a knee injury this week. In his place versatile Tyson Brown has been named on an extended bench after a standout performance in the Reserves last weekend. Also getting the call up from Gotch, new recruits Josh Trembath and Richard Newell have been in impressive form in the twos.
In the Reserves, experienced midfielder, Xavier Gotch and key defender Josh Giddings are set to work their way back from a hamstring injuries that has kept them off the field since Rounds Three and Two respectively.
At Presentations following the game, Jimmy Deane's Head Chef, Charles Sutton will be offering a buffet BBQ in the Peter Darley Function Room for just $20 per person. Meanwhile, local rockers Transit will be performing in the Bistro. So why not hang around and grab a bargain feed and party the night away after what is hopefully a sixth straight win for the Panthers!
Round Seven Teams
Proudly sponsored by


League - 2:10pm
F: Barnes, Haren, Overall
HF: Cross, Eddy, Hitchcock
C: Fields, Seccull, Irra
HB: Daniel, Cailotto, Redigolo
FB: Rose, Crabb, Rankine
R: Bass, Veide, Liddle
INT: Brown, Newell, Schwarz, de Visser, Trembath
IN: Brown, Newell, Trembath
OUT: Gulden (knee)
NEW: Richard Newell (West Adelaide), Josh Trembath (Glenelg)
Reserves - 11:25am
F: Need, McMahon, Ah Chee
HF: Taylor, Ellison, Szust
C: P. Kerin, Gotch, Moyle
HB: O'Shaughnessy, Giddings, Haines
FB: Durdin, Darrou, Bartram
R: Steffe, Heaslip, Nichols
INT: Kappler, Anderson, Kokkinakis
IN: Giddings, Gotch
OUT: Brown, Trembath, Newell
Under 18s
South Adelaide vs Woodville-West Torrens - Saturday 7 May - 2:10pm - Maughan Thiem Hyundai Oval
N. Beenham, D. Arnold, N. Scanlan, C. Lock, R. Irra, T. Stone, R. Mayes, R. Williams, H. Bruce, J. Daniels, J. Tylliss, B. Millman, D. Whimpress, N. Kreuger, Ba. Sowter, N. Steele, J. McKinnon, S. Lawrie, J. Fitzgerald, J. Wright, A. Albanese, S. Draper, J. Weller, S. Gurney, M. Wadewitz
Under 16s
South Adelaide vs Woodville-West Torrens - Saturday 7 May - 11:50am - Maughan Thiem Hyundai Oval
J. Bastian, J. Beeche, L. Bogle, J. Bradford, L. Bradley, T. Coleman, J. Colwell, R. Crombie, T. Davies, A. Douglass, Z. Dowling, J. Fitzgerald, L. Hutchinson, K. Jongenelis, I. Lallard, J. Manuel, B. Marshman, R. Milsom, T. Oliver, L. Payne, F. Penn, H. Sampson, M. Short, S. Whitbread, E. Wilkinson
Author:
South Adelaide Football Club