Junior Match Report: U18s storm past the Tigers!
30 July 2019
South Adelaide vs Glenelg
Round 15 - Flinders University Stadium - 28/07/19
| | | | | | |
| --- | --- | --- | --- | --- | --- |
| South Adelaide | 3.2 | 8.7 | 12.12 | 18.15 | 123 |
| Glenelg | 4.2 | 4.2 | 7.4 | 9.6 | 60 |

Goals: Sladojevic 6, Freitag, Horne, Ryan, Barrett 2, Riddle, McCreery, Oliver, Cook
Best: Horne, Freitag, Kraemer, Sladojevic, Clifton, Cook,
South Adelaide Under-18s continue on with recent form by taking down the Tigers by 63-points on Sunday morning.
Coming into round 15, we were preparing for a tough match up against Glenelg.
We have played them twice already this season, having lost both times, by 5 points in round 2 and 2 points in round 10.
We had three forced changes this week again due to college football.
This was three of our better players form the last game in Matthew Roberts, Marcus Lippett and Zac Dumesny.
This gave an opportunity for us to bring a couple of new players into the team.
After strong performance in our under 17 school holiday state youth championship squad, we choose Brayden Cook and Tom Barrett (both from Happy Valley FC) to make their debut for South Adelaide's Under-18s.
Lachlan Williams was called up to our reserves, and another Happy Valley player Jack Flett played his second game for the year, this time across half back.
The typical trend continued as we lost the toss and kicked against the breeze for the first quarter.
Within the first minute Glenelg had a shot and missed. We then transitioned the ball with good ball movement to create an opportunity but also missed.
Glenelg then kicked the next two goals to give them a 12-point lead before first gamer Tom Barrett kicked his and our first.
We then kicked our second through Daniel Sladojevic to bring the score back level, but Glenelg again kicked away with the next two.
Damon Freitag kicked his first and although we had hit all our KPI's we went into quarter time 6 points down.
In the second quarter we had what breeze there was and made the most of it.
We controlled the footy, had good field position, but didn't finish as well as we would have liked kicking 5.5 for the quarter.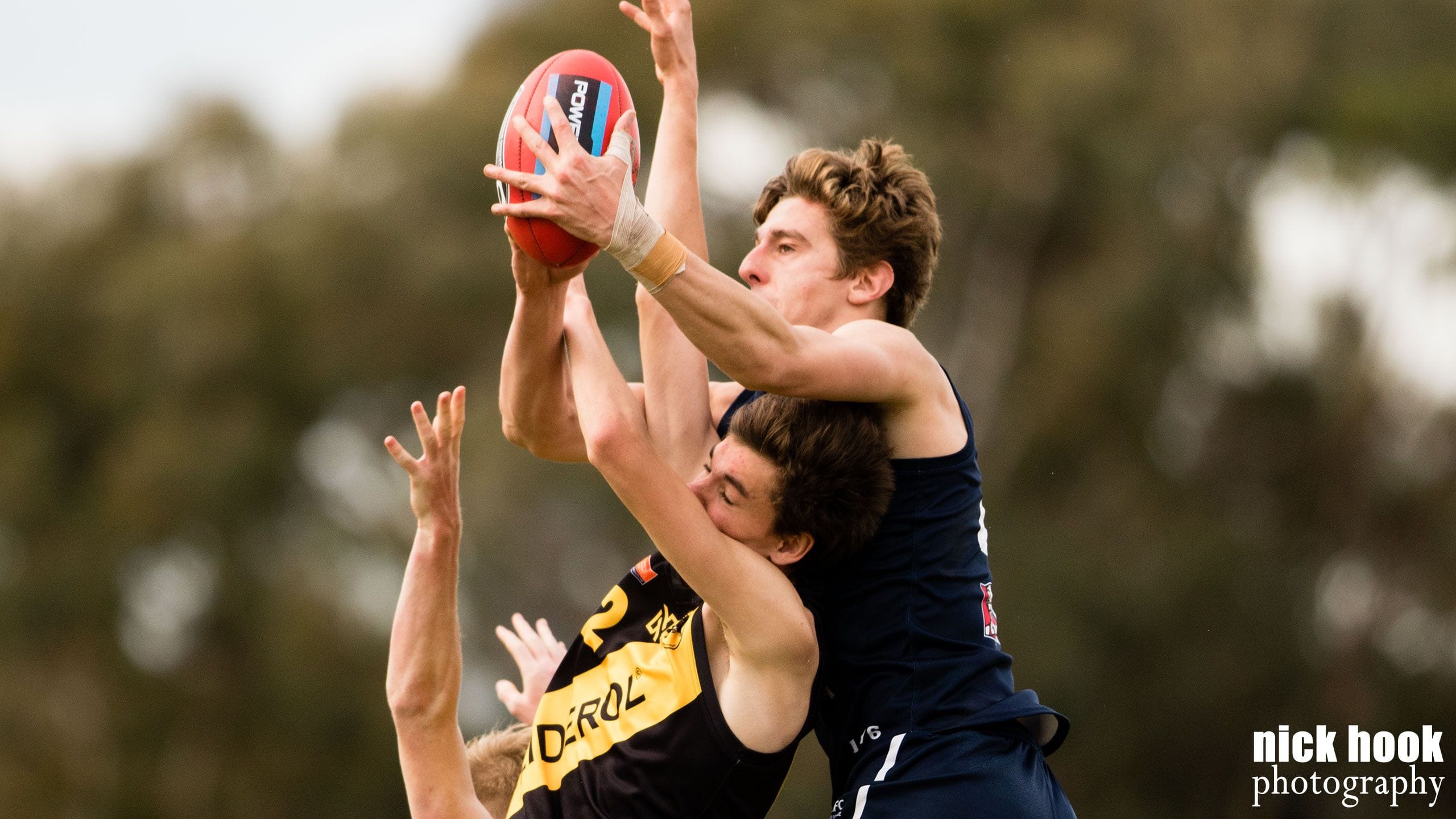 Under-18 Captain Aaron Douglas takes a strong mark. Image: Nick Hook Photography.
The positive was nine players hit the score board, so we weren't relying on too few, everyone was contributing.
The backs did an amazing job limiting Glenelg to one inside-50 for the quarter.
We started the third quarter okay kicking the first two through Sladojevic and Cook
I think we then became too comfortable and went away from our plan slightly, which good sides can take advantage of and Glenelg did, kicking three for the quarter to match us.
The unselfish Jason Horne put the ball in a dangerous position that saw Ben Ryan mark and goal from the square, extending our half time lead to 38 points.
In the last quarter, we shared the ball with Glenelg with some of the stats looking even except when we went forward.
We looked dangerous having nine shots at goal and kicking 6.3 to Glenelg kicking 2.2.
Again, we had multiple avenues to goal with five goal scorers for the quarter and nine goal scorers for the game.
A 63-point win was a great result, the team looked close and preformed well for most of the day.
Only three games to go and we now sit 4th on the ladder (only on percentage), if we continue our current form, we will play finals.
Round 16
South Adelaide @ Centrals
X Convenience Oval - Saturday August 3 @ 3:40 pm
Mark Clayton
U18 Head Coach