Under-16 Match Report: Round 4 vs Glenelg
Posted by Brett Hudson on 29 March 2021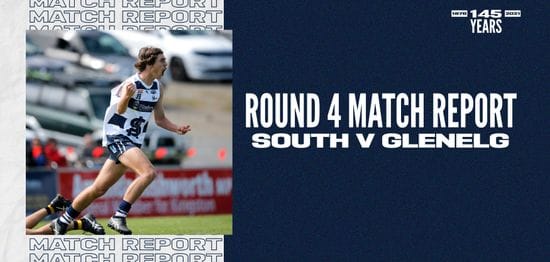 Under-16 Match Report
South Adelaide vs Glenelg
Round 4 - Flinders University Stadium - 27/03/2021
| | | | | | |
| --- | --- | --- | --- | --- | --- |
| South Adelaide | 2.0 | 5.4 | 11.5 | 14.9 | 93 |
| Glenelg | 3.5 | 4.5 | 5.6 | 5.8 | 38 |
Goals: Delean 4, Agnew, Barrett, Hargrave 2, Churchill
Best: Wheaton, Delean, Schirmer, Schroder, Amos, Rodrigues
South Adelaide's Under-16s get the win over Glenelg at Flinders University Stadium on Saturday.
Coming off their first loss for the year the Panthers were keen to get back onto their home deck and back onto the winners list.
We would be facing a Tigers side though who are always competitive and this would be no different.
Glenelg got off to a hot start and had the pressure on from the get go with 3 shots on goal having them off to an early lead.
It wasn't until some speedy work from Jack Delean set up fellow Reynella prospect Jake Agnew for our first goal of the day.
A classy finish from Benny Barrett had us back in the lead from mid quarter but after that it was all the bays as they dominated possession and had repeat shots on goal.
Some inaccurate kicking however kept their lead in range as they finished the quarter with 3 goals 5 behinds to our 2 majors.
The second quarter started a little more in our favour as Delean hit the board early for his first of 4 goals for the match.
After missing last week Tom Wheaton was starting to have an influence as was Blake Rodrigues (25 disposals).
However a goal to Glenelg allowed them to regain their advantage . From there our defence began to get on top with Myles Amos and Nicholas Schroder competing strongly.
When Agnew kicked a late first half goal it gave us the lead and we went to the main break with a 5 point advantage.
It took less than a minute in the second half for bottom ager Sid Draper to slot his first goal and we were beginning to look a bit stronger around the contest off the back of some strong work from big man Tom Schirmer.
Glenelg continued to compete hard and the obvious talent of some of their players still had them looking dangerous, but when the lively Barrett slotted his 2nd it kick started a run of 4 straight Panther goals ending in a long bomb after the siren to Ryan Pearsons and a more comfortable 35 point advantage.
We had a strong focus to continue our work in the last as we knew how quickly the opposition could turn things but to our boys credit they kept their minds on the job.
Seb Hoeck was continuing his consistent work for the season and when Phoenix Hargrave kicked a late goal to finish some great end to end ball movement the margin had reached 55 points which was the final result.
Wheaton amassed 34 touches and 10 clearances. Delean had 15 possessions to go with 4 majors, while Nicholas Schroders 7 marks and 13 touches were important in our back half.
It was really positive to see the boys bounce back after being challenged and we are now looking forward to an Easter clash against a strong Norwood side on Thursday night.