Under-18 Match Report: Round 16 vs North Adelaide
Posted by Jayden Bartlett on 16 August 2021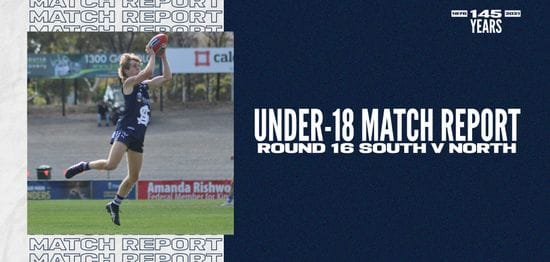 Under-18 Match Report
South Adelaide vs North Adelaide
Round 16 - Prospect Oval - 14/08/2021
| | | | | | |
| --- | --- | --- | --- | --- | --- |
| South Adelaide | 6.1 | 9.2 | 15.4 | 18.10 | 118 |
| North Adelaide | 1.1 | 4.7 | 5.7 | 6.9 | 45 |
Goals: Delean 5, Cockshell, Inthavong, Pearsons, Pilmore 2, Hogg, Howes, Kirkland, Rogers, Verrall
Best: Rogers, Verrall, Delean, Mitton, Daniell, Brown
A first-quarter blitz saw the South Adelaide Under-18s surge to a 73-point win over North Adelaide at Prospect Oval on Saturday.
The Panthers pounced on the Rooters early into the match with a 6-goal opening term before storming home to claim the impressive win, 18.10 (118) to 6.9 (45).
Yet again there were many standouts in the blue and white. Jack Delean finished with a 5-goal haul while Cooper Rogers collected a team-high total of 30 touches to go with his 12 clearances.
Coming into the match following last week's dominant display, the Panthers looked to continue their impressive momentum.
And, just 5 minutes into the match, Delean struck with the opening goal of the day. Then Noah Howes followed suit minutes later to hand the Panthers an early buffer.
The Panthers stormed home in the closing stages of the opening term with 4 goals within 5 minutes and the blue and white would not let this buffer slip for the remainder of the match.
The second term was more of a shoot out as the two sides went goal for goal. However, this played into the Panthers favour as, come the halftime siren, they still held a 25-point lead.
The Roosters opened the scoring during the third term to cut the lead down to 19 points. But Lachlan Inthavong was quick to repair the damage with his second major of the day.
Delean then kicked his fourth and fifth goal of the match in quick succession, before Will Verrall, Cameron Kirkland, and Austin Hogg closed out the third term by booting their firsts of the game.
Holding a 15.4 (94) to 6.9 (45) lead at the final change, Ryan Pearsons, Koby Cockshell, and Bailey Pilmore all registered their second majors of the day as the Panthers cruised home to claim the impressive 18.10 (118) to 6.9 (45) win.
The South Adelaide Under-18s will look to keep their winning momentum going when they face Central District on Saturday, 21 August, from 12:00pm.