Betta Teams: SANFL Round 5 - South Adelaide vs West Adelaide
23 July 2020
South Adelaide finish off their two game home stint with a visit from the Bloods on Saturday.
After a solid four-quarter performance last week against Sturt in windy conditions, the Panthers now face a West Adelaide outfit who are also fresh off a win over the reigning Premiers.
Like the previous two weeks, there are no confirmed outs for the Panthers.
Tyson Brown was a late out last week due to a groin complaint, but is set to line up against the Bloods.
Jesse McKinnon also comes back into the squad along with Anthony Biemans who is set to play his first match in 2020 after being sidelined by injury.
Dour Defender Jake Summerton will play his 50th SANFL match on Saturday.
Summerton played nine games for the Eagles before making his way to Noarlunga in 2018, where he had a stand out first season by claiming the Player Trademark and Knuckles Awards.
The Reserves also take on West Adelaide on Saturday morning and will also be bolstered by a number of inclusions.
2020 recruit Ben Sawford is set to play his first reserves game for the blue and white after a quad strain in the internal trial put him on the injury list.
Malcolm Karpany will also be back in action in the Reserves, as he has recovered from a back injury that happened early in the round 1 win over the Eagles.
The action kicks off with the Reserves at 11:30am on Saturday morning followed by the League at 2:10pm.
Like last week, there will be a limit of 1000 spectators after SA Health have yet to approve SANFL Clubs Covid Management Plans.
Please keep an eye on the South Adelaide social media channels as general admission tickets may become available before the league match.
If this is the case, patrons will need to provide contact details at the gate as per SA Health requirements.
The following memberships will have access to the game on Saturday.
Season (home and away) members including Kingstonian members (all levels)
Home match members (Home match only)
Children (under 18s) only admitted if they hold a financial membership (Panther Cub or Junior Panther member).
Gates will open at 11am on Saturday morning.
Don't miss a second of the action!
What: Panthers vs Bloods
Where: Flinders University Stadium
When: Saturday, July 25, 2:10 PM | Gates open 11:00 AM
Tickets: South Adelaide Home and Season members only.
Watch: Live via SANFL Digital Pass Member's Only Pricing | Non-Member's Pricing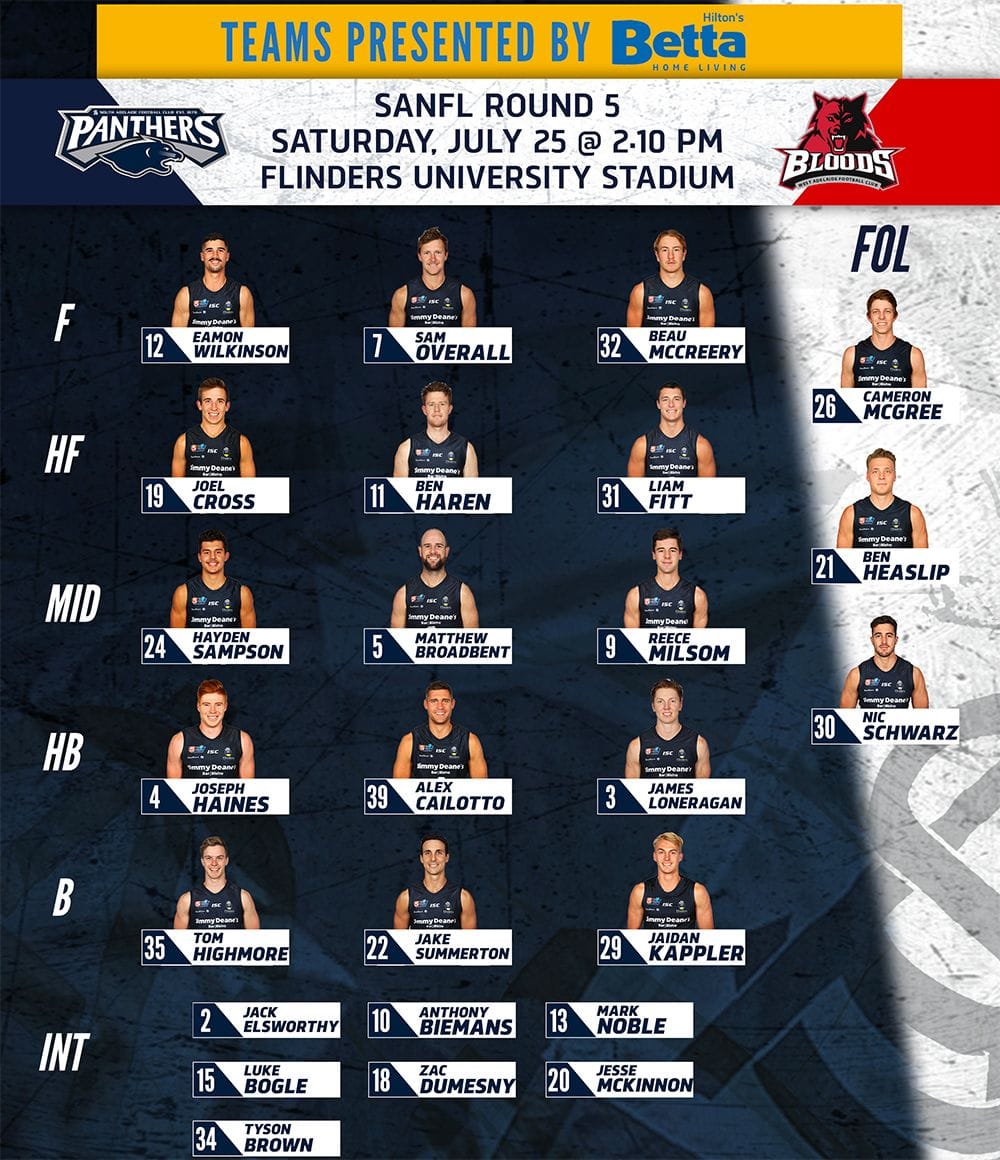 In: A.Biemans (10), J.McKinnon (20), T.Brown (34)
Out: N/A
Milestone: Jake Summerton - 50 SANFL Matches (41 for South Adelaide, 9 for Woodville-West Torrens)
What: Panthers Reserves vs Blood Reserves
Where: Flinders University Stadium
When: Saturday, July 25, 11:30 AM | Gates open 11:00 AM
Watch: Live via SANFL Digital Pass Member's Only Pricing | Non-Member's Pricing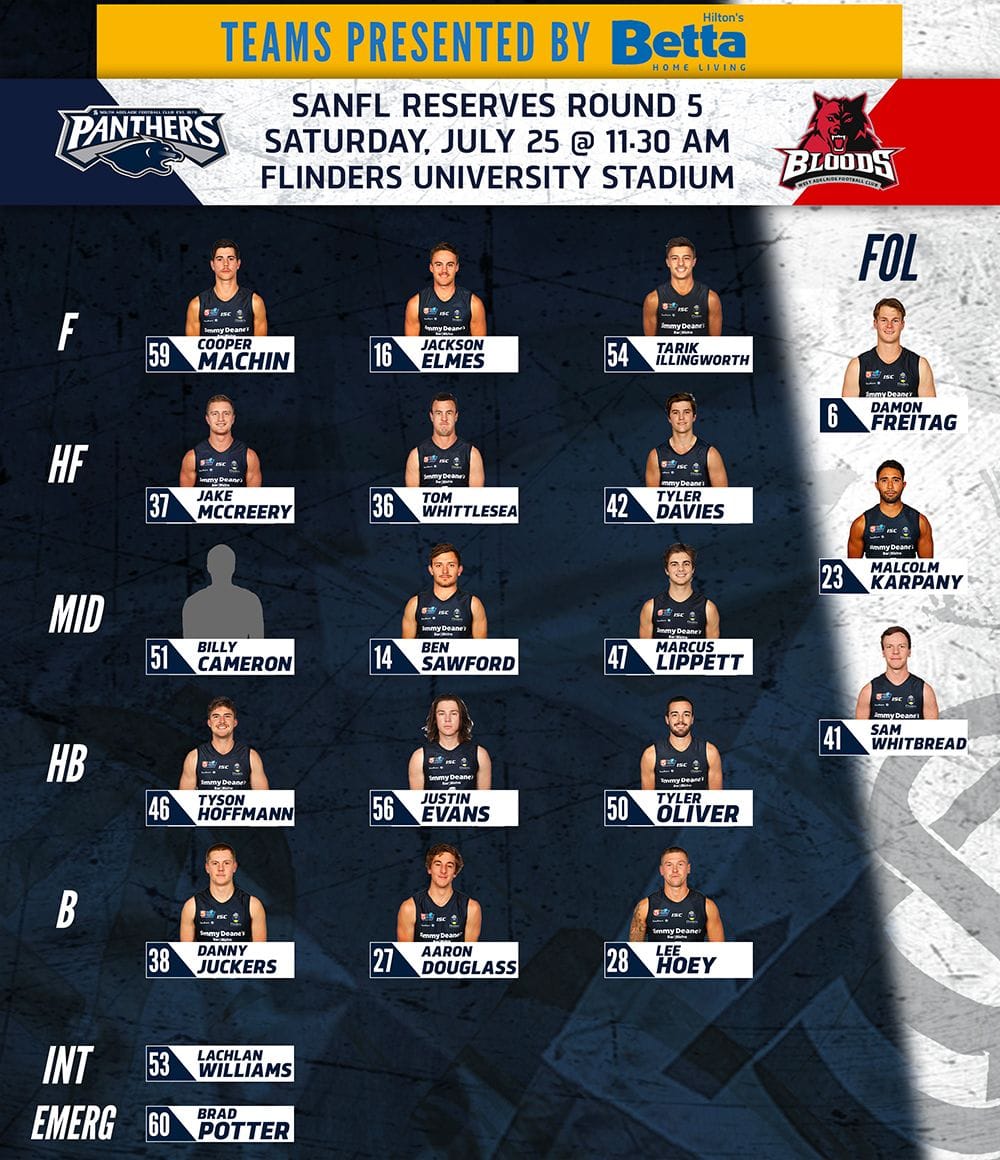 In:
B.Sawford (14), M.Karpany (23)
Out: Kerinaiua (family), Cook (under-18's), Rosman (omitted)