Daily Grind Women's Match Report: Round 8 vs Glenelg
Posted by Jayden Bartlett on 27 April 2021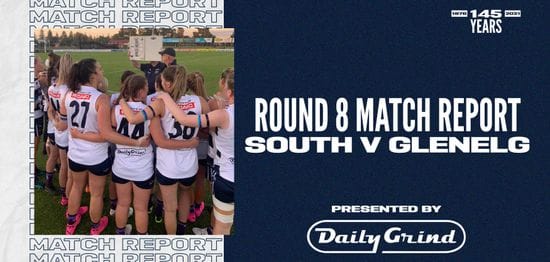 South Adelaide @ Glenelg
Round 7 - ACH Group Stadium - 24/04/2021
| | | | | | |
| --- | --- | --- | --- | --- | --- |
| South Adelaide | 0.2 | 1.3 | 2.5 | 2.5 | 17 |
| Glenelg | 1.0 | 2.1 | 2.1 | 3.2 | 20 |
Goals: Hooper 2
Best: Hammond, Whiteley, Buethke, Hooper, Schirmer
South Adelaide falls just three points shy of Glenelg during a nail-biting clash at ACH Group Stadium on Anzac Day Eve.
The 2.5 (17) to 3.2 (20) loss was as a sour end to a promising fightback for the Panthers, as the side bounced back from a slow start to lead by four points midway through the final term. However, a Glenelg goal with just four minutes left on the clock proved too big of a hurdle to overcome.
Returning from state duties, Tahlita Buethke led the way for the Panthers with 23 disposals and 6 clearances. Also impressive was Nicole Campbell who finished with 17 touches and 6 tackles.
The first goal of the day went the way of the Tigers, with Chelsea Packer kicking truly for the home side midway through the opening term to put the Panthers on the backfoot early.
Wearing purple socks in support of Breakthrough Mental Health, South Adelaide came close to answering late in the opening term, but in a game were the two sides combined for 155 tacklesfree flowing and attacking footy was limited.
Trailing by four points at the first break, Jorja Hooper back up last week's performance by once again kicking the goal that put the Panthers in front during the early stages of the second term.
However, this lead would be short-lived as just four minutes later the home side responded with a goal of their own to retake the lead.
Then, the match once again fell into a battle of the backlines.
In a game where scoring opportunities were limited, the Panthers squandered their chances during the closing minutes of the second term, yet just four points separated the two big cats at halftime.
Gypsy Schirmer continued to provide plenty of pressure around the stoppages: by the time the final siren sounded, she had collected 11 touches and 10 tackles.
Just thirty seconds into the third term, Hooper followed up with her second goal of the game to put the Panthers once again into the lead. From here, the visitors looked to create a healthy buffer but could only amass two behinds.
Yet, as the Panthers managed to hold the Tigers scoreless during the third term the side entered the final break holding a promising four-point lead.
With seventeen minutes left to protect a four-point lead, the Panthers did a great job at holding off the Tigersuntil the final 240 seconds, when Glenelg finally broke through with the game-winning goal.
Following Glenelg's scoreless quarter, the Panthers would also go scoreless during the final term before falling to a bitter 2.5 (17) to 3.2 (20) defeat.
Despite sitting one win below second, the loss sees South Adelaide drop to fifth on the ladder with three games to play.
The Panthers will now face off against Norwood in a must-win clash at Coopers Stadium on Saturday, 1 May, from 11:00am.